SOLLEMNE | Joanne O'Kelly School of Dance 2021 concert
Posted on 1 December 2021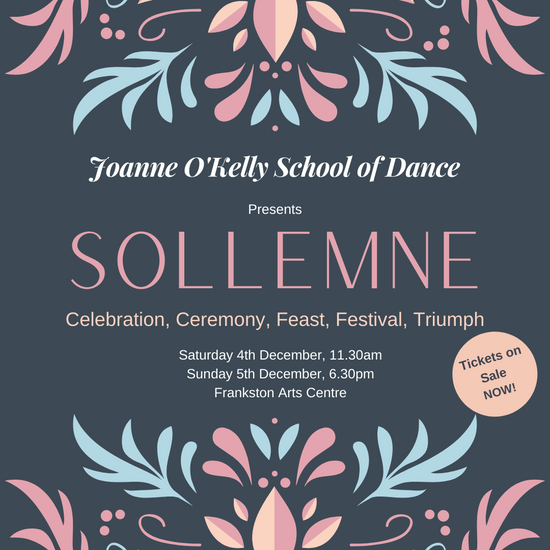 Joanne O'Kelly School of Dance presents "Sollemne"
Latin for 'Celebration, Festival, Triumph and Ceremony', "Sollemne" promises to be a performance like no other, as it epitomises our excitement to return to the stage and showcases the dedication, resilience and talent of our beautiful students following the most challenging two years.
We're thrilled to be able to bring you this performance that involves our entire school back on stage doing what they love. From our tiny pre-school students through to our experienced seniors we will be taking you on a dance journey including sublime classical ballet, creative contemporary, dynamic jazz and captivating musical theatre routines.
Over the last few weeks the studio has been buzzing as we've worked so hard to put this performance together in record time. Our motivation being the joy and love our students experience being back in the theatre again.
So please come and join us in this unique celebration of our work and support our wonderful dance community, they truly deserve it!
Get your tickets now from Frankston Arts Centre.